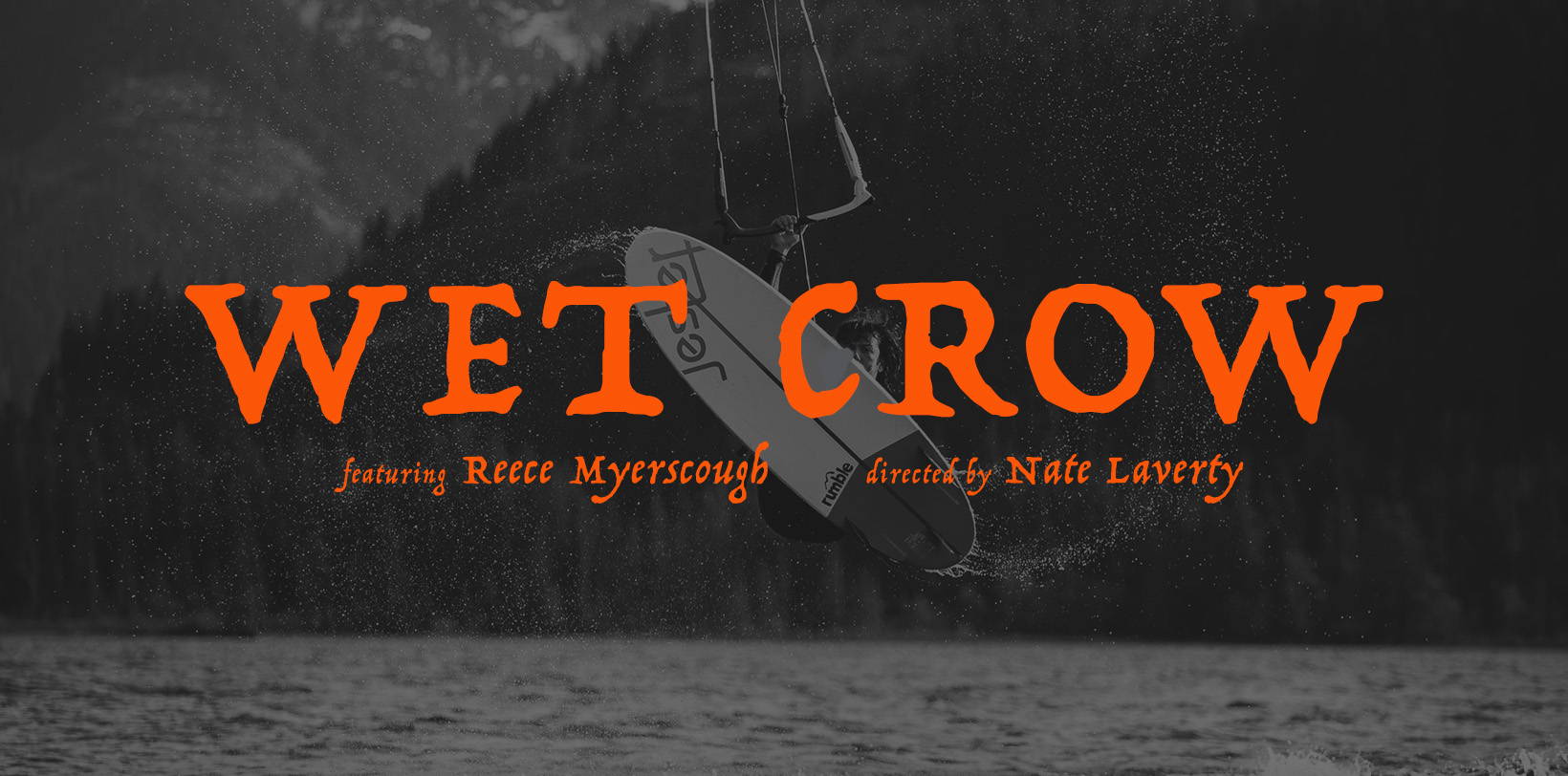 Behind the scenes with Reece Myerscough & Nate Laverty
When he's not competing for the Kitesurf World Cup, Reece Myerscough becomes a creator of things. Whether it's designing boards for Ocean Rodeo, building backyard CNC machines, or just carving innovative new lines on the water behind a kite… he's out there, creating.
Wet Crow sees him drawing inspiration from the conditions he finds in his native Vancouver Island, where legendary Canadian filmmaker Nate Laverty trailed him over the course of 18 months, capturing Reece in some of the most awe-inspiring spots you'll find anywhere on the planet.

Enjoy the film, then read our exclusive, behind-the-scenes interviews with Reece and Nate below!

INTERVIEW: REECE MYERSCOUGH

Reece, firstly, what does Wet Crow mean?

One of Nate's friends came up with it after watching the video. I guess he saw a wet person in a black wetsuit flying through the air and thought it resembled a wet bird. A Wet Crow.

How long did it take to film? It looks like there are several sessions and seasons in there.

It took about two years to film Wet Crow. After the first couple sessions I ended up breaking my leg, which put everything on hold for about four months. After that I was out of town in the fall for competitions. Then Nate was out of town most of the winter. So it took a while before we were both in the same place again to finish filming. Because we filmed over such a long period, we ended up getting a really cool variety of sessions that really shows the diversity of conditions on Vancouver Island.

Whereabouts on the island was it filmed?

Wet Crow was all filmed on the northern part of Vancouver Island, in and around the Tofino area.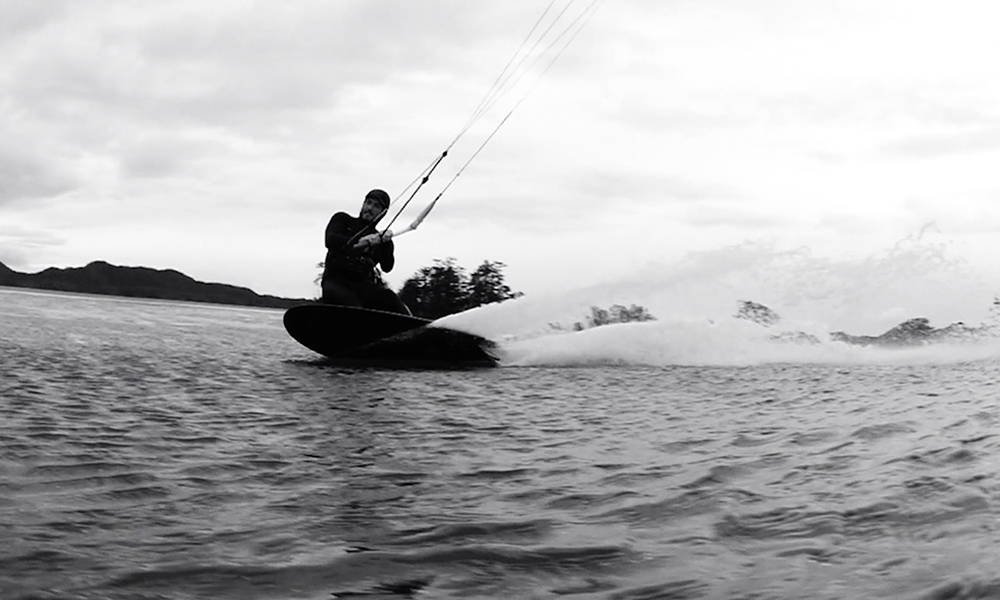 You're designing boards for Ocean Rodeo. Tell us about some of the boards you've designed to date, and which are you most proud of and why?

The Creep is my most recent shape released with Ocean Rodeo. It's a wave board with a freestyle outline and it's pretty much my favorite board in almost all conditions now. All my best finishes in competitions have been on the Creep, it really excels in small to medium surf. I'm actually riding one of the final Creep prototypes in the wave segment at the end of Wet Crow.
You mention the CNC machine you built during lockdown. How does this benefit your design process?

My homemade board shaping CNC machine was a project I undertook to proto boards more quickly and easily. Since getting the machine up and running I'm able to produce a board from start to finish in three days. I can test the boards, and iterate the shapes in a precise way that is generally harder to do by hand.

Would you recommend other budding designers build their own CNC machine?
It took me over two years before I got my first board out of my CNC machine. It was a big project and surprisingly there is not much clear info around building CNC's. It takes a while to figure out what to do, but the main benefit of building the machine yourself is that it's MUCH cheaper. You also get to know the machine inside out, so modifications and repairs become easier.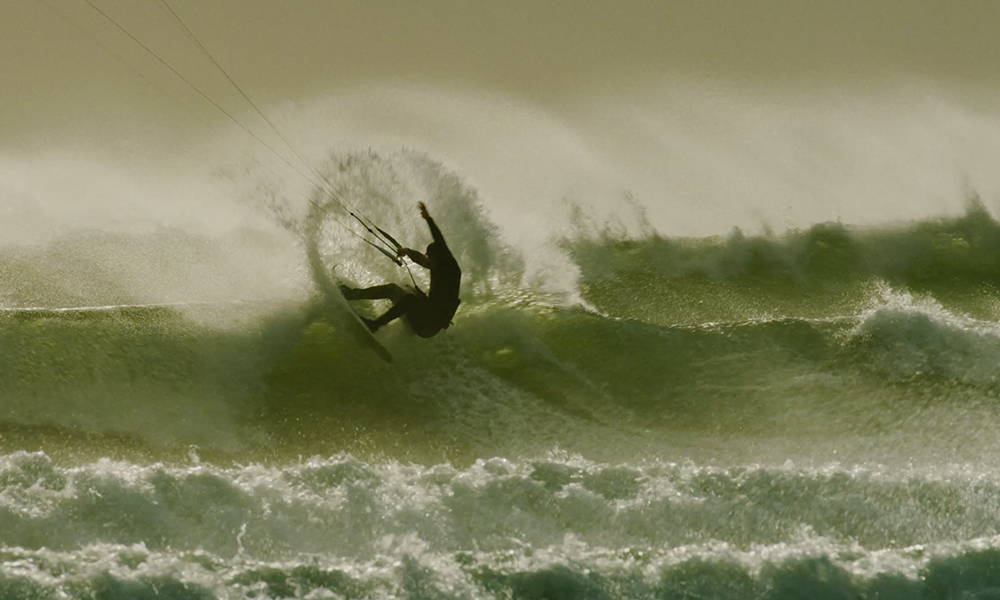 Is it important to you to always be creating something, boards or otherwise?
I guess it's always important to keep things evolving and moving forwards. It's nice to have the design work to go along with the athletic side of things. When I feel like I'm not progressing on the water, I can take a few days off and focus on design. And vice versa, it really keeps things fresh and prevents burnout.

Nate Laverty has a great reputation as a filmmaker. How was it working with him?

Obviously Nate produces some spectacular surf movies, but he's never done a kite movie before. I think the fact that Nate never filmed kiting before allowed him to create a super unique piece of video. He never even watched a kite film before, just so that he could enter this project with a completely fresh perspective. I think Nate smashed the nail straight on the head, there's nothing I would change with Wet Crow.

INTERVIEW: NATE LAVERTY (DIRECTOR)

Hey Nate. So was Wet Crow your first kiteboarding film? And was it a different experience to shooting surf films?

Hey! Yes, Wet Crow was my first. I had quite literally never even watched kiteboarding. Certainly large parts of it were different. The filming approach was honestly a little bit tougher when shooting from land. You're generally in near gale force wind so your gear is rattling about and you have absolutely no idea when he's going to just go nuclear into the atmosphere…
How did you approach it? Did you do much research on kiting first?

Nope. I did no research. A few friends sent me some pieces to watch and I made it about 30 seconds in before deciding I will have no part in creating anything like that. My feeling was to build a creative vibe to it first and foremost and work out the action after. He is gnarly, so for me to get into it there was no question he'd crush it. More so, I wasn't sure I could create something that was traditional to the kite film scene without feeling pretty disassociated with it. So I came up with a slightly goth-meets-wind idea...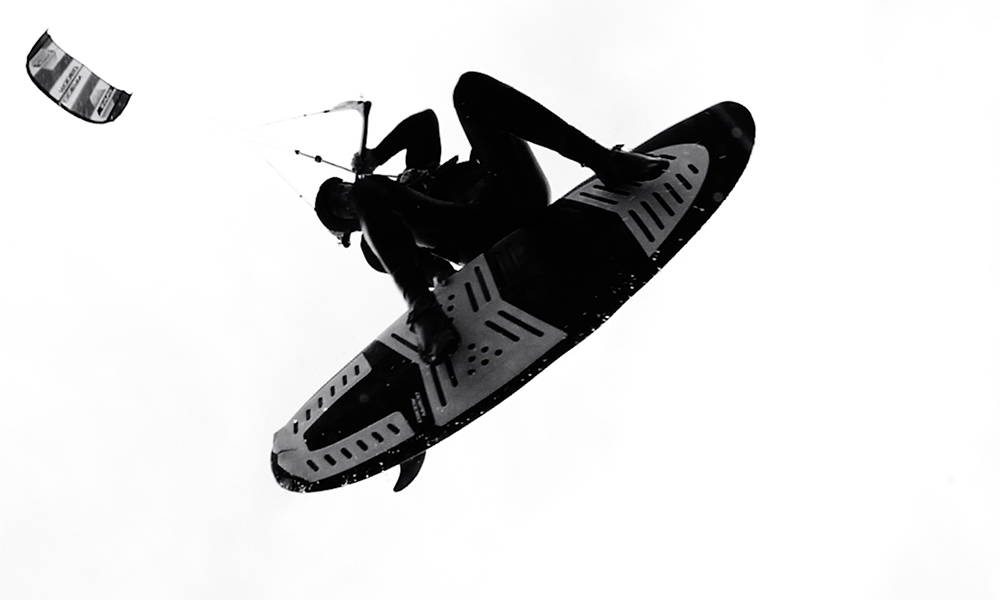 How was it working with Reece?

Sick! He's a beauty. He definitely was confused at times towards my approach, haha! But that can be expected.

Who mostly set up the shots, or was it a combination of both of you?

Reece would tell me where we were shooting and generally it would be a hurricane in the rain and I would go home early and recover. The most fun was when we took the boat across the harbour and shot back towards town. Sunny, beers, good times. The lifestyle stuff I came up with on a remote secret beach.

Were there any close calls whilst filming in the water?

Nope! I really wanted to pull some skate filming influence into it so the fisheye helped with that. To be honest I thought there's a good chance we'd collide at some point but he's crazy good at controlling where he's going.

We understand this was all filmed in and around the Tofino area in British Columbia, Canada. This is an area you know pretty well right?

Yep, I live on Chesterman's Beach and have been here close to ten years. It's changed so much but still has a little bit of its original charm if you dig deep enough.

Do you think you'd be into doing more kiteboarding films now you've had a taste?!
I'll do more with Reece if he's keen! I've been involved in board sports most of my life so I feel really comfortable with the people and the places we go. Primarily snowboarding and surfing, but so as long as I find like minded people to work with and travel with then I'm all about it.