See the previous similarly-named topic for the initial development of this bridle by Wisha. I altered my 12m One with the original mod, flew it for about 4 sessions in September, and was really pleased with the performance improvements . On the down side, I had one kite crash ( during release to leash testing ) where the long pulley V-line wrapped a wingtip. I decided to try shorter V's when converting my 9m One.
My shorter version on my 9m One flew just as well as Wisha's longer version did on my 12m. I've scaled my shorter version down for my 7m One and up for my 12. After about 5 sessions on my 9m, and one 25 – 35 knot day on the 7m ( none on the 12m yet ), with lots of kite crashes after blown jumps and testing leash releases to both front lines and single front line, I haven't had any bridle-wingtip snags. So time to let others try it.
It is very easy to do, requires only 4 pulleys, pigtails for the pulleys, and four lengths of leader line rope, like factory bridle 'H' line. Here's a sketch, the new V-lines & pulleys are shown in red. Everything else is just a re-arrangement of existing factory bridle lines.
Here are some pictures of my modified 9m flying. First shot the kite and lines are in focus, but the viewing angle makes the bridle proportions hard to see.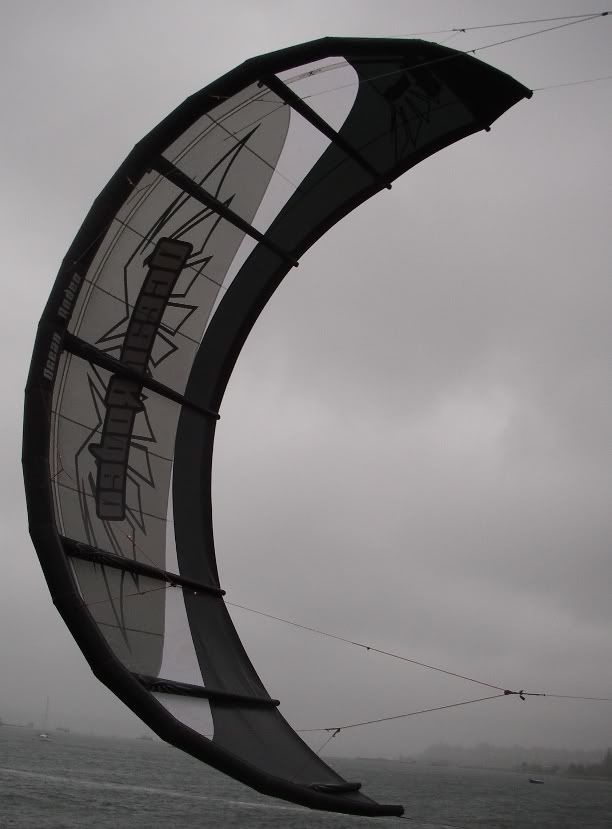 In the second shot, you can make out the bridle, but sorry, lousy focus.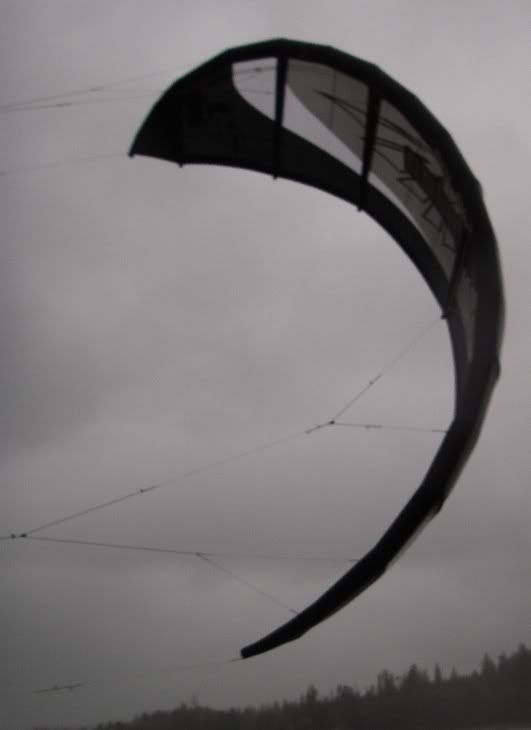 I'll post the V-line lengths next. If you decide to modify your One, please consider that this bridle modification has not been widely tested. To date, only 3 One riders ( Wisha, Noo Noo, and myself ) have modified One bridles and posted results.
If you modify your bridle, TEST IT IN LIGHT, STEADY WIND ( 10 – 14 knots ) AT A VERY SAFE LOCATION, with tons of space, and no hard objects or spectators downwind. I'd also recommend setting up your bar ( at least temporarily ) to leash to single front line, so that you can fully depower the kite if needed.